2011 SING participants & instructors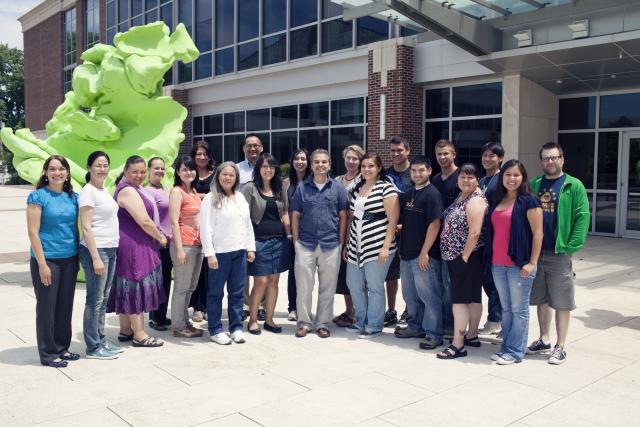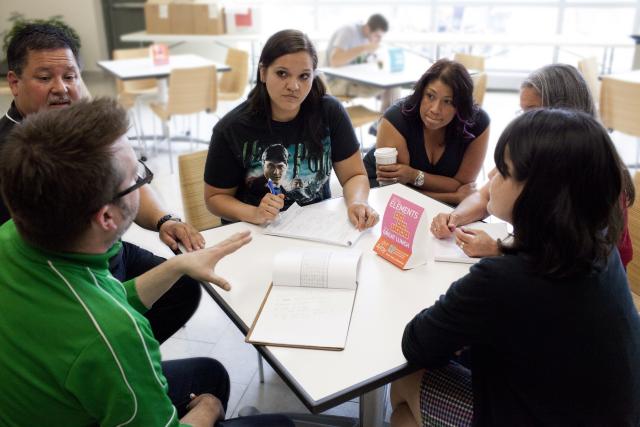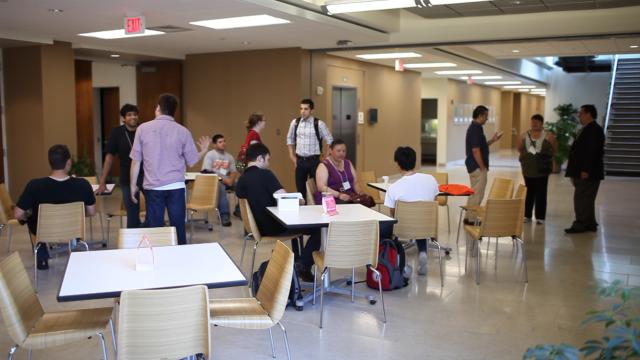 Conference and discussion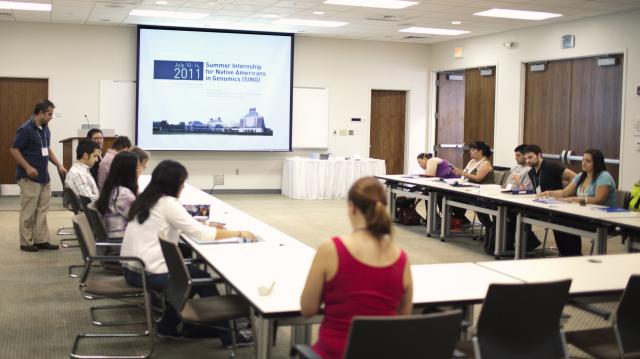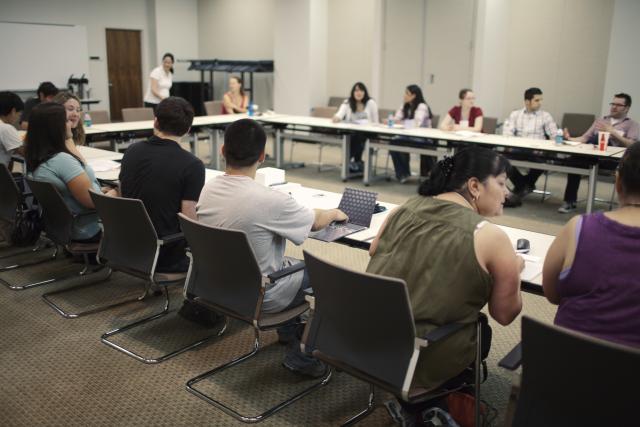 Computer Teaching Lab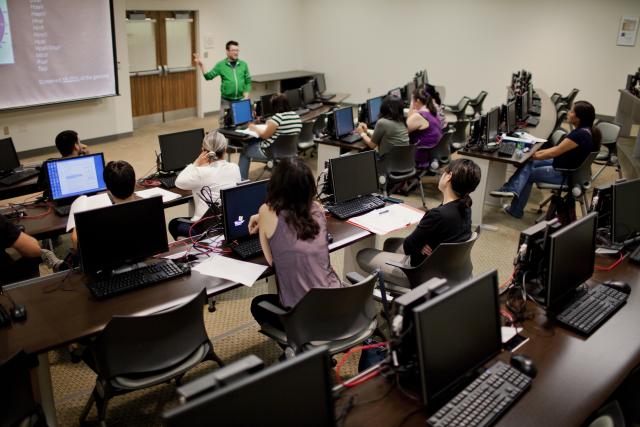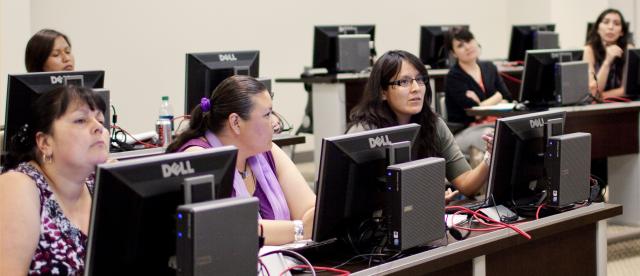 Molecular biology teaching lab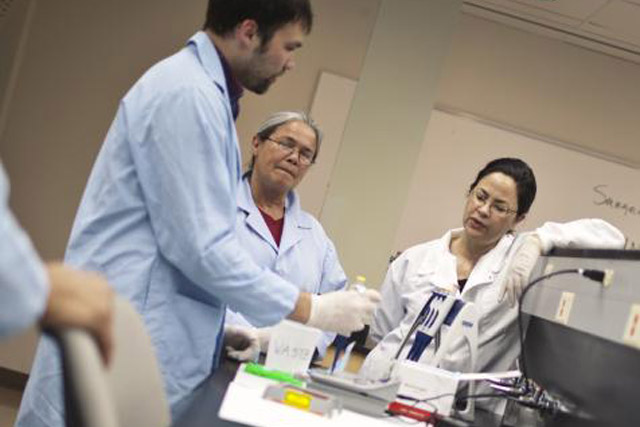 Organizers
Jessi Bardill (Cherokee)
Jessi is transitioning to be a postdoctoral research fellow in American Indian Studies at UIUC.  Jessi earned her Ph.D. in 2011 from the Department of English, Duke University.  Her dissertation project explores a narrative that uses blood to create identity in how it influences legislation, science and belonging, particularly in the forms of blood quantum requirements and DNA testing.
Mike DeGiorgio
Mike is transitioning to be a postdoctoral research fellow in the lab of Rasmus Nielsen at UC Berkeley.  Mike defended his dissertation and will receive his Ph.D. in August, 2011 from the Bioinformatics program at the University of Michigan under the guidance of Noah Rosenberg.  He plans to continue his research on modeling human evolutionary history to evaluate various hypotheses of modern human origins and investigate the effect of human demographic history on the search for genetic variants involved in disease susceptibility.
Nanibaa' Garrison (Navajo)
Nanibaaa' is a postdoctoral research fellow in the lab of Mildred Cho at Stanford University.  Her current research interests include ethical, legal social and cultural issues in genetic research that include indigenous issues in genetic research, personal genomics, human genetic ancestry and evolutionary history, and issues with privacy, confidentiality, and informed consent.  Nanibaa' earned her Ph.D. in Genetics at Stanford University on the genetic architecture of human hair and skin pigmentation.
Brian Kemp
Brian is Assistant Professor in Anthropology and Biological Sciences at Washington State University.  His research is focused on the analysis of mitochondrial DNA and Y-chromosomal DNA variation in extant and prehistoric populations to address questions about Native American prehistory that are not approachable from culture history alone.  Brian received his Ph.D. in Anthropology from UC Davis.
Ripan Malhi
Ripan is Assistant Professor in Anthropology, Animal Biology and Institute for Genomic Biology at UIUC. His research interests include using DNA analysis to infer the evolutionary history of Native Americans.  Prior to his position at UIUC, he co-founded and served as the CEO of Trace Genetics, Inc., a biotechnology company located in the greater San Francisco area.  Ripan received his Ph.D. in Anthropology from UC Davis.
Julia Martin (Kiowa)
Julia is a graduate student in Microbiology in the lab of James Imlay at UIUC.  Julie studies cell mechanisms that may play an important role in the defense against hydrogen peroxide stress.  Julia is an active member of the local chapter of SACNAS.
Tracey Pierre (Colville)
Tracey is a postdoctoral research fellow at the Centre for Geogenetics at the University of Copenhagen, Denmark.  She is interested in using ancient DNA analysis to address questions of Native American population history.  Tracey earned her Ph.D. from Cambridge University investigating mitochondrial DNA variation among Athapaskan speakers.
Kari Schroeder
Kari is a postdoctoral research fellow at the Institute of Neuroscience of Newcastle University Medical School.  Her interests include the co-evolution of personality and cooperation in humans.  Kari received her Ph.D. in Anthropology from UC Davis. For her dissertation, she used genetic variation to test hypotheses about population structure and population history in Native America.
Kim TallBear (Sisseton-Wahpeton Oyate Dakota)
Kim is Assistant Professor of Science, Technology, and Environmental Policy at UC Berkeley. She studies the ways in which genomics is co-constituted with ideas of race and indigeneity. She also studies the role of science and technology in U.S. tribal governance. She has a book, Native American DNA: Origins, Ethics, and Governance, forthcoming with the University of Minnesota Press.
Robert Warrior (Osage)
Robert is Director of American Indian Studies at UIUC, where he is a professor of American Indian Studies, English and History.  He is the author of The People and the Word: Reading Native Nonfiction, American Indian Literary Nationalism.  Like a Hurricane: The Indian Movement from Alcatraz to Wounded Knee and Tribal Secrets: Recovering American Indian Intellectual Traditions.  He is the founding president of the Native American and Indigenous Studies Association.
Participants
Maile Arvin (Kanaka Maoli)
Maile is a Ph.D. candidate in Ethnic Studies at UC San Diego.  Her dissertation historically and ethnographically analyzes how Native Hawaiian (Kanaka Maoli) identity has been shaped in four legal and scientific spheres: blood quantum, repatriation of ancestral remains, genomics, and political recognition under international indigenous human rights.
Jill Black (Confederated Tribes of the Colville Reservation)
Jill is a graduate student in the Resource Management Program at Central Washington University.  The focus of her study is cultural resources with an emphasis on osteology.  She has used dental calculus as an alternative source for mitochondrial DNA analysis in an effort to find a substance for analysis of skeletal remains that is less destructive to the individual.
Bradley Carrier (Onondaga)
Bradley received his B.S. degree in Biology (Minor in Nutritional Science) from Cornell University.  He has interned or worked in numerous labs ranging from Exercise Science to Nutritional Science and has used molecular biology techniques in his research.
Demelza Champagne (Turtle Mountain Chippewa)
Demelza received her B.A. in Anthropology (Minor Women's Studies) from UCLA.  She then pursued an M.A. in Women's s Studies at San Francisco State university.  Her thesis is on the marriages between European fur traders and American Indian women during the 18th-19th centuries, focusing on the intersections of sexuality and colonialism.  Currently Demelza is studying anthropology at the New School for Social Research.
Katrina Claw (Navajo)
Katrina is a Ph.D. candidate in Genome Sciences, University of Washington.  Her research interests include human and non-human primate population genetics and the evolution of reproductive proteins.  Katrina received a B.A. in Anthropology and B.S. in Biology from Arizona State University.
Melissa Eidman (Yurok)
Melissa graduated from Nevada Union High School in 2007.  She has completed her general education including introductory chemistry and physical anthropology classes at Sacramento City College.  Melissa has the immediate goal of transferring to UC Davis to obtain a degree in biochemistry and has longer-term career goals of attending medical school.
Eric Lenci (Muwekma Ohlone)
Eric is a third year undergraduate student at San Jose State University (SJSU) with a major of Computer Science (focusing on bioinformatics).  He is also the current President of the Society for Advancement of Chicanos and Native Americans in Science (SACNAS) Chapter at SJSU.
Jake Long (Miami Tribe of Oklahoma)
Jake is a graduate student in Botany at Oklahoma State University.  He is currently using population genetics, phylogenetics and phylogenomics on research that deals with the relationships of Native American landraces of corn.
Joycelynn Mitchell (Metlakatla)
Joycelynn is a member of the Metlakatla Treaty Team.  She received a certificate from the Justice Institute of BC for completing their Aboriginal Leadership Program.  As part of this program she completed courses such as Values and Ethics in Aboriginal Leadership, Aboriginal Leadership Development and Individual & Community Wellness.
Nathan Nakatsuka (Native Hawaiian)
Nathan is an undergraduate student at Harvard College majoring in Chemical and Physical Biology.  Nathan has extensive molecular biology experience, working in numerous labs on projects ranging from methylation and epigenetics to vector proteins on West Nile Virus.
Barbara Petzelt (Gitwangak)
Barbara is the Treaty Coordinator for the Metlakatla Treaty Office.  She received a B.A. in archaeology from Simon Fraser University.  Barbara primarily studied cultural archaeology with a focus on British Columbia's Northwest Coast along with human evolution and human osteology.
Krystal Tsosie (Navajo)
Krystal is pursuing a Masters in Arts in Applied Ethics (Health and Biomedical Sciences) at ASU.  For her thesis she is researching medical ethics in the context of indigenous beliefs in the local Native American community.  Krystal is also researching cancer drug pathways and studying the role of glucose in avian metabolism to elucidate mechanisms of diabetes.